S.P.A.Training Division
<![if !vml]>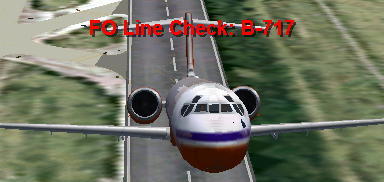 <![endif]>
Flt No. SP8913
Aircraft: B-717
Location: Charlotte, NC (KCLT)
Weather: 3000 Overcast, Visibility 3mi, Wind calm.
S.P.A. First Officer Checkride
---
PLATES NEEDED:
CLT - Panther Seven Dept. - Pictorial
CLT - Panther Seven Dept. - Description
JFK - VOR or GPS RWY 13L/13R Approach
---
ROUTE:
CLT(115.0)..PAN7.LILLS..SDZ(111.8)..FKN(110.6)..SBY(111.2)..CYN(113.4)..CRI(112.3)..JFK
---
ALTITUDE:
FL 330
---
DEPARTURE:
Depart CLT from runway 18L
Fly heading 183 until joining PAN7.LILLS (CLT R-112)
Maintain 8000 feet until established on the CLT R-112 then climb and maintain FL330.
---
ENROUTE:
Follow flight plan route.
---
ARRIVAL:
From over CYN fly either:
GPS/RNAV direct to ASALT intersection or
Fly heading 036 and join the CRI 223°R and track it inbound.
Follow the procedures and altitudes outlined for the VOR RWY 13L/13R approach plate and land on RWY 13L.
Welcome To New York City!