S.P.A.Training Division
<![if !vml]>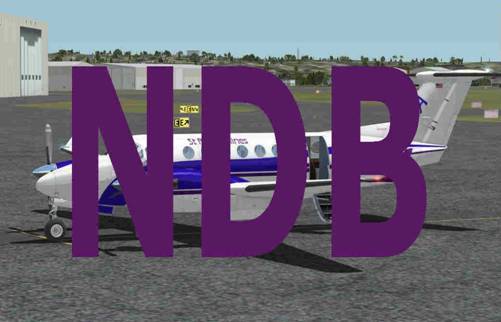 <![endif]>
Flt No.
TN8905
Aircraft: BE-1900
Location: Hays, KS (KHYS)
Weather: 2500 Overcast, Visibility 2mi, Winds calm
NDB approach
NDB navigation should always be referred to as "bearings FROM the station". Hence, on this approach, you are flying a heading of 114 to HILYN NDB, but you are on the 294 bearing from HILYN.
<![if !vml]>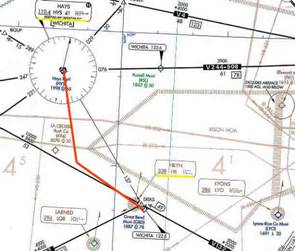 <![endif]>
Depart HYS on RWY 16 and follow the "NoPT" (no procedure turn) transition depicted on the GBD NDB or GPS-A approach plate. (HYS 157 radial until HILYN 294 bearing from the NDB)
<![if !vml]>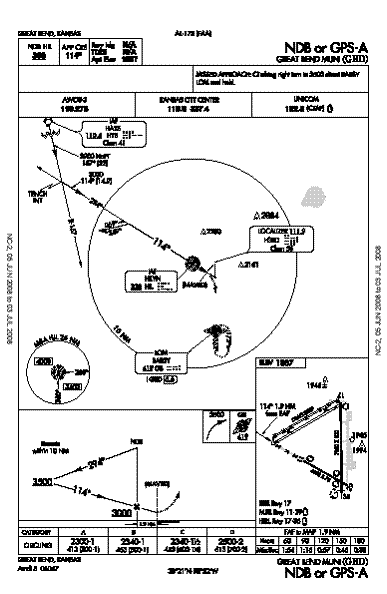 <![endif]>
ALTITUDE: As published (3900 until HILYN 294 (114 inbound), then 3000)
Before departure, set radios as follows: Nav # 1 to HYS VOR (157 radial)*Set ADF to HILYN NDB (338).
<![if !vml]>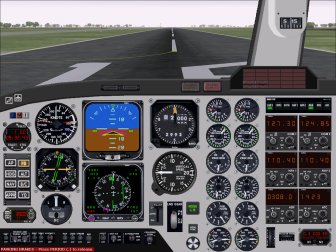 <![endif]>
HERE IS HOW TO DO IT.........
1. Climb to 3900 feet on the HYS 157 R for 22nm to intercept the HILYN NDB 294 bearing > Note the NoPT (No Procedure Turn).
2. At 21 nm out, turn left to Hdg 114 to join the NDB 294 bearing (43 degrees difference).
<![if !vml]>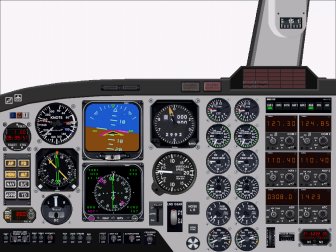 <![endif]>
3. When established on the 294 bearing, descend to 3000 feet. You are now about 14.9 nm from the NDB. Plan your speed accordingly. Begin slowing to 140.
4. Be slowed to REF speed before arriving at the NDB > 1/2 flaps but NO Ldg gear yet. (note light pole 5 nm west of the NDB).
5. Passing the NDB, select Ldg gear down, and 3/4 flaps. > Don't land on road between the NDB and the runway. You'll need a rate of descent of 1000 fpm. Don't let your speed build up...you'll fly past the runway.
<![if !vml]>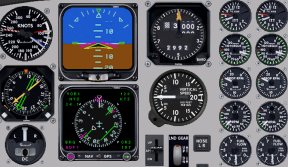 <![endif]>
6. When runway in sight, select Ldg flaps...and land.
WELCOME TO GREAT BEND, KANSAS.
<![if !vml]>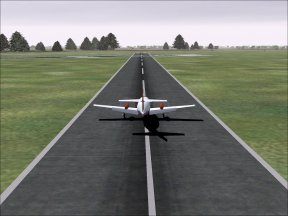 <![endif]>
NOTE # 1 > NDB altitude is 3000 feet. MDA altitude is2340 feet. Airport elevation is 1887 feet. Distance from NDB to runway is only 1.9 miles. (3000 - 2340 = 660 * 3000 - 1887 = 1113 feet). At 120 knots, 1.9 miles is less than one minute. You'll need at least 1000 fpm descent.
NOTE # 2 > ADF navigation can be tricky! I've known professional pilots that never did figure it out. The ADF needle points TO the station > you must figure out what it is telling you. The angle interpolation is done in your head, and if the wind is blowing, it can be a nightmare > especially with a fixed card ADF (rather than RMI).
NOTE # 3 > When you roll out on your 114 Hdg inbound to the NDB, your needle will be pointing off the nose of the aircraft ("N" for fixed card ADF) ONLY IF YOU ARE ON COURSE...ON THE 294 BEARING.
TRICKY PART: IF > the needle is left or right of the nose while flying the 114 Hdg, then you are NOT on course. IF > the needle is 5 degrees left of the nose (no wind), then the 294 bearing is off to your left. IF > you turn left only 5 degrees to join, you will parallel the course, rather than get back to it. THEREFORE: You want to turn more than the offset. In this case turn left 15 degrees (Hdg 99) > Now the needle should be 10 degrees off to the right of the nose. HOWEVER: Your Hdg is 15 degrees off to the left > THEREFORE: You must fly the 99 HDG until the needle is 15 degrees off to the right to be on course > Turn back to your 114 Hdg inbound. IF > Needle now on nose, then you are on course (NO WIND).
<![if !vml]>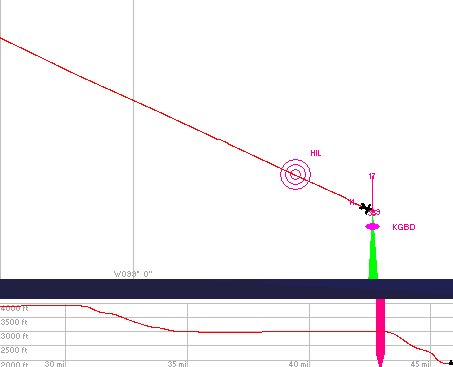 <![endif]>
As you can see, ADF flying to minimums can be very difficult. The greater the distance between the NDB and the runway, the greater the difficulty. Add some wind, and it can really eat your lunch!
SEE WHY I SAVED THIS ONE FOR LAST?
WHEN YOU THINK YOU'VE GOT IT.....ADD A CROSS WIND, AND TRY IT AGAIN.
---
THANK YOU FOR FLYING WITH SAINT PAUL AIRLINES....