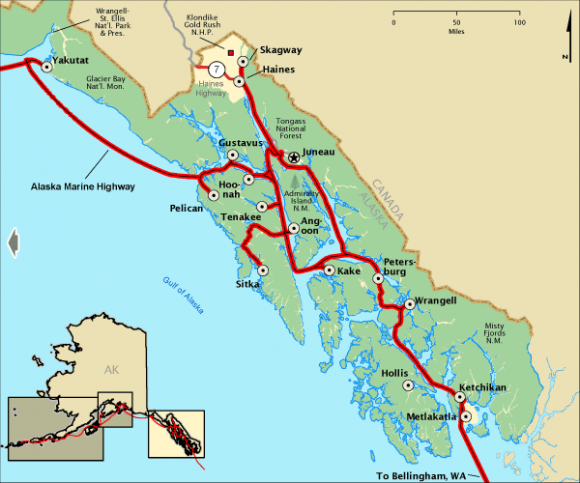 Known to Alaskans as the "Blue Canoes"
Want to have a great time and see the real Alaska up close and personal? Try the Blue Canoes (as Alaskans call them). The Alaska Marine Highway System achieved the nation's highest designation for a scenic route. It is one of only 27 highways in the country that have been designated as an All-American Road. The 3,500-nautical-mile ferry route connects 33 ports and stretches from Bellingham, Wash., to the Aleutian Islands. Alaska Marine Highway ships run for 8,834 miles from Bellingham north to Skagway, across the Gulf of Alaska, into Prince William Sound, and out to Dutch Harbor, the tip of the Aleutians.
Fly the Alaska Marine Highway Route
Fly the Alaska Marine Highway Route. You can choose your own aircraft type, but you will want a suitable bush aircraft because some of the runways are very short.
| | | | | | |
| --- | --- | --- | --- | --- | --- |
| Flight Code | Origin | Destination | Distance(NM) | Orig Airport | Dest Airport |
| 900000 | KBLI | CYCD | 54.8 | Bellingham Intl | Nanaimo |
| 900001 | CYCD | CYBL | 76.7 | Nanaimo | Campbell River |
| 900002 | CYBL | CYZT | 91.5 | Campbell River | Port Hardy |
| 900003 | CYZT | CAF2 | 95 | Port Hardy | Bella Bella (Campbell I) |
| 900004 | CAF2 | CYZP | 147.6 | Bella Bella (Campbell I) | Sandspit |
| 900005 | CYZP | CYPR | 78.7 | Sandspit | Prince Rupert |
| 900006 | CYPR | PAKT | 77.7 | Prince Rupert | Ketchikan Intl |
| 900007 | PAKT | PAKW | 48.2 | Ketchikan Intl | Klawock |
| 900008 | PAKW | PAWG | 59.2 | Klawock | Wrangell |
| 900009 | PAWG | PAFE | 58.2 | Wrangell | Kake |
| 900010 | PAFE | PASI | 47.7 | Kake | Sitka Rocky Gutierrez |
| 900011 | PASI | PAOH | 63 | Sitka Rocky Gutierrez | Hoonah |
| 900012 | PAOH | PAGY | 81.9 | Hoonah | Skagway |
| 900013 | PAGY | PAYA | 132.4 | Skagway | Yakutat |
| 900014 | PAYA | PACY | 92.3 | Yakutat | Yakataga |
| 900015 | PACY | PACV | 92.1 | Yakataga | Cordova-Smith |
| 900016 | PACV | PAVD | 44.6 | Cordova-Smith | Valdez Pioneer |
| 900017 | PAVD | PAWR | 75.2 | Valdez Pioneer | Whittier |
| 900018 | PAWR | PAWD | 44.1 | Whittier | Seward |
| 900019 | PAWD | PAHO | 68.3 | Seward | Homer |
| 900020 | PAHO | PADQ | 118.1 | Homer | Kodiak |
| 900021 | PADQ | PAKN | 142.6 | Kodiak | King Salmon |
| 900022 | PAKN | PAPH | 121 | King Salmon | Port Heiden |
| 900023 | PAPH | PASD | 117 | Port Heiden | Sand Point |
| 900024 | PASD | PACD | 75.7 | Sand Point | Cold Bay |
| 900025 | PACD | PADU | 154.2 | Cold Bay | Unalaska |
| 900026 | PADU | IKO | 100.5 | Unalaska | Nikolski AS |
| 900027 | IKO | PAAK | 200 | Nikolski AS | Atka |
| 900028 | PAAK | PADK | 92.3 | Atka | Adak |